The Revolutionary Communist Youth Brigades
The CNN propaganda team is getting a bit sloppy. They put out an article today on Mrs.Schiavo headed by this picture: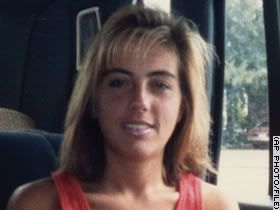 Babeolicious! Too obvious, you say? It gets even better. In the body of the
article
is this gem describing an interruption of Randall Terry's news conference:
"... -- members of a group calling itself the Revolutionary Communist Youth Brigades seized control of the microphones and blasted Terry as a "Christian fascist thug" trying to interfere in "the most intimate affairs of life and death."

"[Terri Schiavo's] brain is not functional. It's not going to recover. Let her die in peace," pleaded Sunsari Taylor, a member of the group."
Fascinating. The
Revolutionary Communist Youth Brigades
. Just the sort of name that someone who lost touch with reality back in the 1970's might use to create a pop-up foil for various events...(remainder snipped as no longer applicable. Too bad, it was pretty good, just not right.)
Late update: After MUCH digging, it turns out that CNN got the name of Sunsara Taylor and the Revolutionary Communist Youth Brigade (no 's') wrong. They're for real, believe it or not. CNN has also heavily edited their original article and removed all reference to the incident. Hmm.
(Thanks to
TPM
for the tip)