The Red Lake Shootings, again
The latest stories show that far from being a loner as initially reported, Jeff Weise may have had lots of help and input for his final act.
Investigators now believe that up to 20 students may have been involved, including the son of the tribal chairman.

The media has tried really hard to play up the similarities between this tragedy and Columbine. Apparently, it's important to sell the story that Jeff was just like the two twisted upper-middle-class kids who did that one. Weise has been described as:


Isolated. Well, apparently, not really.


Bullied. This kid was huge. Highly unlikely.


Nazi. He posted on a Nazi board for several months; mostly exploring the "race separation" angle.


Goth. I haven't seen anything to discredit this yet, but I see lots of Goth kids every day, and it seems to me that it is mostly an outlet for adolescent angst.
One thing that I've seen nothing about is the huge risk factor of being native American and living on a reservation. About a year ago I was in Bismarck on business and made the acquiantance of a gentleman who was a high school teacher on a reservation near there. We talked about a lot of things, but two points he made come back to me now:
The suicide rate among young native American males is very, very high.



Never, ever leave your car on the res over night if you're an outsider.
At first glance, these points might seem unrelated, but they're not. Both of them are symptoms of
rage and despair
. Jeff Weise did what many, many other young native American males do; he committed suicide: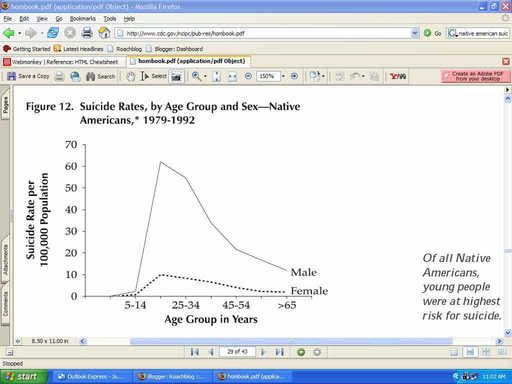 I guess that's not news.
The unusual thing was that he took a bunch of folks with him. And we can talk about Nazis. And Goth stuff. Now
that's
news.