Swiftboat Taverns for Truth
Ok, so I was fishing up north with the elder Roach a few days back, and since the fish were not particularly cooperative, we found ourselves dining in some of Northwest Wisconsin's finer "out of the way" establishments. One place had these nifty coasters: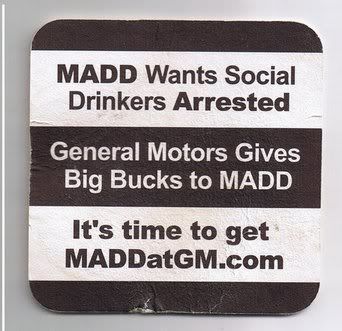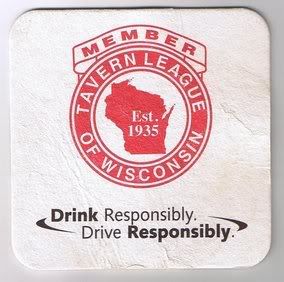 This sort of obvious smear campaign seemed strangely familiar.
MADDatGM.com
is sponsored by a trade association called the "American Beverage Licensees". The campaign is a brainchild of Richard Berman, who maintains several non-profit" fronts, mostly for the food, beverage and tobacco industries. Richard Berman is not a very honest person. Most of the money that flows into his "non-profit" organizations
ends up in his pocket
. His numerous "Institutes" and "Centers" are funded entirely by industries that wish to avoid regulation and avoid paying a living wage,
but don't want anyone to know
what they're up to.
His beliefs are dictated by those who write checks for him. Here is a sampling of his quotes:
"The crusade to establish 0.08 BAC as the uniform 'drunk' arrest level would have you in jail for behavior statistically safer than using a car phone."

"[There is a] lack of evidence that second-hand smoke causes cancer."

"Our offensive strategy is to shoot the messenger. Given the activists' plans to alarm beyond all reason, we've got to attack their credibility as spokespersons."
So, Mr. Berman is on record as believing that:


Driving at 0.08 BAC is perfectly fine


You can't get cancer from cigarettes, as long as you just breathe from the non-filtered end


The best way to win a policy argument is through character assassination
I don't think it's coincidence that we are seeing more and more absurd attack campaigns like this, propped up by fake front organizations--the GOP has shown us all how well it works.
So, the next time you're in a bar in Wisconsin and you see a Tavern League logo, remember what these folks stand for, how they think, and who their friends are.