Sunday. More missing white woman coverage.
I won't even bother to post the pages. As usual, the other women who died this week in very public circumstances aren't getting any coverage. To remedy this, here's a little article I found about
Holly Charette
.
Mail is a mission for one Marine



CAMP BLUE DIAMOND, AR RAMADI, Iraq (May 3, 2005) -- For Marines and Sailors here, there may be nothing sweeter than the sound of mail call. One Marine with Headquarters Battalion makes it her mission to deliver those delightful words.

Lance Cpl. Holly Charette, a 21-year-old from Cranston, R.I. recently deployed here from Marine Corps Base Camp Lejeune, N.C. She is one of the thousands of 2d Marine Division Marines serving in the Al Anbar Province as part of Operation Iraqi Freedom.

Charette's job allows her to meet many of the people in Headquarters Battalion, where she works. Her part in the Global War on Terrorism is something different than most Marines. And that's not all that sets her apart from her fellow service members.

"I never really thought too hard about being a mail person, but it's really an important job and people depend on me," said Charette. "There are a lot of stresses involved, but it's really worth it at the end of the day."....
Of course, the story doesn't have a happy ending.
Holly died on Thursday
in a suicide bomb attack on her convoy. Holly, I wish I could give your picture and story wider circulation.


Update: I see Atrios has posted a link to another blogger who writes a nice tribute to Holly. Better looking blog, too.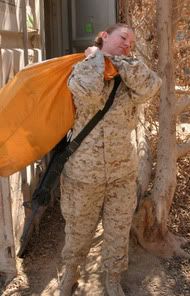 Semper Fi, Holly.