An Online Magazine
Corporatism.
The FDA panel that suprised everyone by voting to let Celebrex, Vioxx and Bextra stay on the market wasn't exactly unbiased.
Who could have guessed?
And then we have the
newest member
of the Department of Homeland Security's privacy protection board. Claria: the scumbags that write and propagate Gator. Orwellian quote of the day:
"This committee will provide the department with important recommendations on how to further the department's mission while protecting the privacy of personally identifiable information of citizens and visitors of the United States," Nuala O'Connor Kelly, the department's chief privacy officer, said in a statement.
Do you ever feel like a frog in a slowly warming pot of water?
"The first stage of fascism should more appropriately be called Corporatism because it is a merger of State and corporate power." --Benito Mussolini
Damage control.
Rove has decided to throw Gannon/Guckert and his as-yet-unknown White House insider friend(s)
to the wolves
.
WorldNetDaily printing an article like this is akin to a badger gnawing off his foot to escape a trap. Interesting.
More ads
Here are a couple more AARP ads that the Spectator will be using soon:


These things are obviously designed to get Grandma and Grandpa America to throw up their hands in horror and cancel their AARP memberships. Expect the next round of ads to link AARP with Al Qaeda.
Well, it worked with Kerry, didn't it?
The Swiftboaties have been given a new target. I wonder if Grandma and Grandpa America are going to swallow it again? (click for the full image):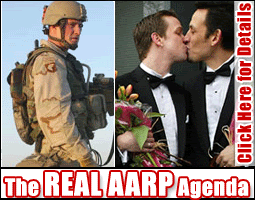 Well, maybe I shouldn't have said "swallow".
Look on the right side of
this page
. It's real. Brought to you by the GOP.
I Could Tell You, But Then I'd Have to Kill You.
We used to say that to women at the Club when they asked what we did in the military. Not particulary original, you say?
The Bushies are trying it out on the courts
. Evidently they believe that it is now OK to:
1. Charge someone with a crime, but not reveal what the crime is to the public, or the Defense.
2. Present evidence to the Court, but not reveal it to the public, or the Defense.
3. Use legal arguments with the Judge, but not reveal them to public or the Defense.
I'm pretty sure that once upon a time in this country, all of this would have been considered unconstitutional.