An Online Magazine
Game, set, match.
I never would have thought that the evidence leading to the impeachment and conviction of Geoge W. Bush would have to come from Britain, but
there it is
. Combined with the Downing Street memo and the testimony of Paul O'Neill, Richard Clarke and others, we have a rapidly growing, steaming pile of evidence.
George W. Bush determined that the US would invade and occupy Iraq long before he or his advisors had come up with a valid or legal reason to do so. All of the false and inaccurate "intelligence" that led up to the war was driven by this policy. The intel was inaccurate and fabricated because the White House demanded it and would not accept anything else.
It was a gross abuse of executive power. It was a violation of US law. It was a betrayal of Bush's Oath of Office. And he has been caught by unnamed Brits who are doing what nobody on this side of the Atlantic has the balls to do; namely, to tell the secrets that need to be told and provide the documentation to back it up.
There is certainly the same kind of evidence available here, but everyone with access to it is too frightened of the consequences to come forward. With the GOP domination of every branch of government, they're probably smart to lay low. A whistleblower in the US would end up in prison instead of being a hero, and the Bush administration would remain uninvestigated and in power.
I guess it's up to the Brits to do for us what we can no longer do for ourselves.
And the winner is...
Syria!
When we first invaded Iraq, there is little doubt that Bush believed that once we had collected our candy and flowers, it would be time to move on to one of its neighbors to bestow our gift of Democracy and Freedom on yet another backward, yet potentially grateful middle eastern country.
Subsequent events would have caused most people with normal intelligence and no obvious psychiatric problems to re-evaluate that idea. But not our War President, oh, no. In case you've forgotten what the early rumblings of the drums of war sound like, they sound
like this
:
"...He called on Syria to comply with United Nations Security Council Resolution 1559 and remove all of its intelligence operatives from Lebanon.

"We're concerned that those intelligence operatives are interfering in Lebanon's internal affairs," McClellan said.

A senior State Department official told CNN that Washington has "credible information" that Syrian operatives plan to try to assassinate senior Lebanese politicians...

A U.N. team sent last month to verify the pullout said it "concluded, to the best of its ability, that no Syrian military intelligence personnel remain in known locations or in military uniform.
Ah, those good old familiar phrases: "United Nations Security Council Resolution" and "Washington has "credible information"", followed up by the ever popular, "A U.N. team sent last month to verify..."
I think I know how this song goes...
Montana's national guard.
Montana is a beautiful place. Lots of mountains, trout streams, trees; you can see practically forever out there. Except during fire season. All of that pine and spruce on steep slopes makes for the world's largest potential bonfire; the terrain not only helps the fire, but it makes it awfully tough to get firefighters in to put it out.
Montana's national guard has always been a vital part of the personnel and equipment needed to keep these fires under control. That's what a state's national guard is for: to help out their state when they're needed. To deploy overseas to fight in an elective war for the federal government wasn't really what the Founders had in mind for the state militias:
"...Until Sept. 11, 2001, such state missions were the most visible role played by the National Guard,... but that has changed as about

45 percent

of the US soldiers in Iraq are Guardsmen, a much greater percentage than in Vietnam or the 1991 Gulf War.

Andrew Krepinevich, director of the Center for Strategic and Budgetary Assessments in Washington, said governors may have to adjust to having fewer Guardsmen available for tasks such as stacking sandbags and putting out forest fires.

''I don't anticipate that the governor, or any governor, is going to get relief any time soon because the insurgency in Iraq doesn't seem to be abating and because the Guard

is having increasing difficulty recruiting people

, so the Guard may get smaller even as the demands on it grow," he said..."(Boston Globe, registration required)
45 percent. That's even more than Def's prediction of 43 percent last year. So the new national guard recruiting campaign should be...What?
Join the National Guard and get all of the combat with none of the benefits of the regular Army! You can use obsolete equipment-and have a higher chance of death or injury than your regular Army buddies! Lose your stateside job! Have your medical benefits cut off 90 days after you return--even if you've been wounded!
I would expect those recruiting and retention rates to remain in the crapper for quite some time. I hope Montana gets lots of rain this summer....
Is the press awakening? Nah.
Michael Jackson
has failed to keep the Downing Street memo out of the US media. So has the
Runaway Bride
. And the
missing girl
in Aruba. And
Saddam's underpants
. The Memo is slowly starting to appear on
page A18
of some of the larger papers, now. USAToday sheepishly came up with a lame excuse for not covering it before this:

They said they couldn't find a copy of it
.
Bush and Blair even had to
answer a question
about it in public. It's a good thing they weren't under oath. The media management folks in the Administration will now make it their top priority to make sure that never happens.
The White House is getting anxious; so it must be time to
play the fear card
--again. Luckily, there are lots of spooky looking Muslims available to arrest; it'll be interesting to see how many of these folks will ever be tried. In the meantime, I smell an Orange Alert in the cards for summer vacation. The threat will be...something that will generate a lot of ink, but not hurt tourism or spending too much.
If that doesn't work, I'm sure the media and the WH will come up with yet another distraction.
The great compromiser.
CNN describes Blair and Bush's proposal for increased aid to Africa
thusly
:
"...In a compromise, Bush pledged an additional $674 million for "humanitarian emergencies" in Africa..."
But it seems that this really isn't a compromise
after all
:
"...The expected promise falls far short of Mr Blair's hopes for a long-term US commitment to help get Africa's economy back on its feet, but will allow him to claim some progress from his visit to the White House for two hours of talks.
In other words, Tony the Poodle really, really needed some kind of positive press opportunity with George, and this was the best he could do. It turns out that the "additional" money isn't actually added, anyway. It's just a bookkeeping shift.
But that wouldn't make such a good headline, would it?
I wonder why
none of the news networks have this pretty white girl on their front page?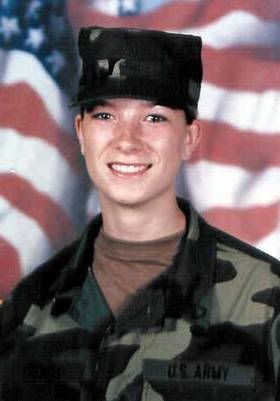 Carrie French
I don't get it, I guess. Pretty White Girl + Bad Thing = National Headline.
Right?
Maybe someone could explain it to me.
The important Sunday news: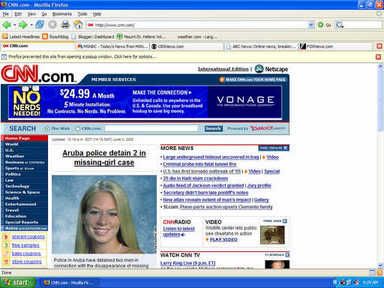 A pretty white girl is missing.
In Aruba.
Be sure to keep an eye out for her.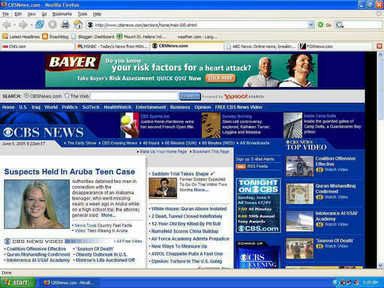 A pretty white girl is missing. Saddam is bad.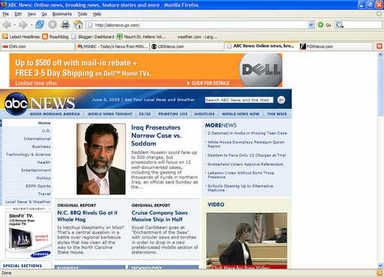 Saddam is bad. The Runaway Bride is bad, too. And a pretty white girl is missing.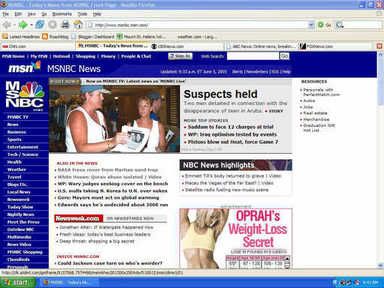 A pretty white girl is missing. Her parents are upset.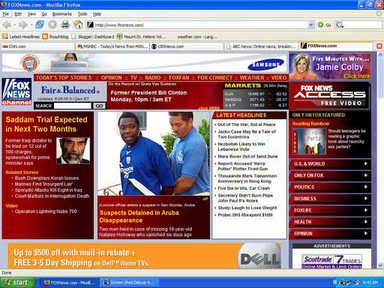 This black man probably took the pretty white girl. And Saddam is bad.